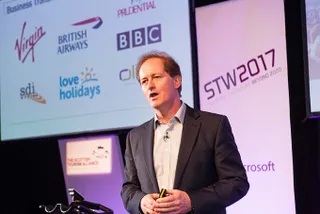 Delivering Change at 38,000ft | A Q&A with Roger Flynn
When I hear about leaders delivering change, I do imagine said leader standing in front of their employees, delivering the message once, and then working with their senior teams to roll out the programme.
But to roll out change in 72 countries, at the same time, while flying between said countries, is some feat!
Roger Flynn joined British Airways as they were going through their own period of change, with a new incoming CEO and aggressive expansion strategy. So how did he add his own transformation programme to the mix, and then once he flew the BA nest what happened next. Well, we sat down with Roger to find out more...
I saw you speak back in 2011 (I think!) where you talked about the simultaneous launch of electronic ticketing and ba.com in 72 countries. How did you manage to get all 72 different sets of colleagues on the same page?!
I and my team embarked on a tour of all 72 countries to inspire the staff in those countries to get involved, sell in the Vision for what we could accomplish together, deal with their fears and get them to bring their energy and ideas to the projects.
You moved onto Prudential and the BBC, enabling more cultural change and business growth. Were there similarities in the challenges you faced?
Yes in many ways. Both organisations are long established and highly regulated. Both challenges were transformational and required inspiring many thousands of staff to want to come on the journey, let go of the past and embrace a different future.
Did your time at the BBC act as a catalyst to invest into the media and tech sector, or was this always a hidden passion?
I was involved in the media industry from my time at Virgin and technology as part of my role at BA so they have both been a passion for a long time. The BBC heightened my understanding of media and technology and the potential for exciting business models and disruptive plays; developments in technology over the last few years is having the effect of dramatically accelerating the opportunities.
And most recently your journey in the travel sector with loveholidays.com was as an industry disruptor. That must have been a completely different experience and learning curve for you?
This was an unbelievably exciting business to be involved with from launch to one of the UK's fastest growing businesses. We disrupted the UK travel sector with a new holiday search proposition and became the 5th largest travel business in the UK market. This felt like going back to my time at Virgin and entrepreneurial leaders with big ambitions but certainly very different from the international scale of British Airways..
So, I know you still do a lot of speaking, but if you had one message you wanted to leave your audience with, what would it be?
Transformational change and embracing a digital future is challenging but achievable.
And finally, is there anything else on the horizon that we should look out for?
I have just invested in and am Chairman of a fast growing luxury travel business called Luxtripper that has parallels with Loveholidays so another potentially exciting ride.
For further information or to book one of our speakers, call us on +44 (0)20 7607 7070  or email  info@speakerscorner.co.uk .
Newsletter Sign Up
If you liked this article then why not sign up to our newsletters? We promise to send interesting and useful interviews, tips and blogs, plus free event invites too.
Have an enquiry?
Send us a message online and we'll respond within the hour during business hours. Alternatively, please call us our friendly team of experts on +44 (0) 20 7607 7070.
Speakers Corner (London) Ltd,
Ground and Lower Ground Floor,
5-6 Mallow Street,
London,
EC1Y 8RQ