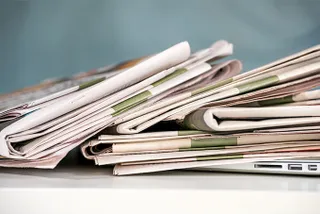 Laura Barnett talks to Claire Skinner about actors, art and Outnumbered
Why did you decide to become an actor?
I was terribly shy as a child, and ­acting became the best way to take me out of myself. It was great, aged 10, to ­discover that I could do the thing I loved for a living.
Stage or screen?
Stage. I've done a lot of TV lately, and I've got used to making very quick ­decisions about characters. With ­theatre, you have weeks to take apart a play. It's a real luxury.
Do you suffer for your art?
Yes. I'm a perfectionist, and I tend to be very hard on myself. But I don't think it's a necessary part of the artistic process – as an artist, you should really leave yourself alone.
What's your favourite museum?
The Natural History Museum at Tring. It's full of stuffed animals, including fleas dressed as Mexicans. You have to look at them under a microscope. No one believes me when I say they're there, but they are.
What's the greatest threat to theatre today?
Musicals based on films or bands' ­careers, such as Dirty Dancing or Jersey Boys, which take a set of songs and build a flimsy story around them. ­London's West End is swamped with shows like these. They feel too easy.
Why is Outnumbered so popular?
Because the parents in it aren't perfect parents. I know I go wrong as a parent all the time, and that's what people like to see on screen.
What work of art would you most like to own?
One of Antony Gormley's long, thin statues, like the ones on Crosby Beach in Liverpool. I'd put it in the garden.
What one song would feature on the soundtrack to your life?
London Calling by the Clash. It ­reminds me of opening my eyes, ­looking around at Hemel Hempstead and thinking, "I'll get out of here."
What's the best advice anyone ever gave you?
I once did a very grumpy curtain call after a performance of Measure for Measure. [The director] Trevor Nunn took me aside afterwards and said, very kindly, "I've just got one word for you, and it's 'grace'." It has stayed with me ever since.
What's the biggest myth about actors?
That we're all self-centred. And it's true.
In short
Born: Hemel Hempstead, 1965
Career: Combines roles in TV and film (including the BBC's Life Begins and Outnumbered) with theatre. Is performing in Mrs Affleck at the National Theatre, London (020-7452 3000), until 29 April.
High point: "Every time I'm working on a great play and wake up saying, 'Oh great, I'm coming to work.'"
Low point: "A year of unemployment in 2002, after the birth of my second son."
Have an enquiry?
Send us a message online and we'll respond within the hour during business hours. Alternatively, please call us our friendly team of experts on +44 (0) 20 7607 7070.
Speakers Corner (London) Ltd,
Ground and Lower Ground Floor,
5-6 Mallow Street,
London,
EC1Y 8RQ