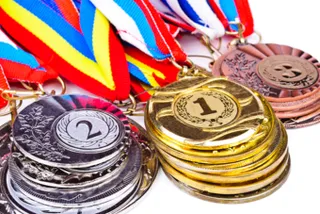 Our Favourite Sports Speakers
Matt Palmer
13 August 2018
The summer of sport is in full swing so we asked our team  to tell us their favourite sports people. Having the chance to meet Olympians and Paralympians in the office every week (before you ask, yes, we have held a gold medal) the team are pretty adept at knowing who has a great story to tell. So, if the various sports events from this year have got your company inspired to hear great  sports speakers , then here are our top picks.
Dan , one of our Account Managers, loves Devon Harris . Devon is one of the original Jamaican bobsled team members and 3-time Olympian, he is best known as one of the 'Cool Runnings' team. Dan said "I think he is great because he tells the inspirational story of how the little guy can achieve against the odds. To go to the winter Olympics having never even seen snow before and then to compete with one of the best bob sled teams in the world is just incredible."


Eddie the Eagle
Also championing the small fry is Account Manager, Adam, who thinks  Eddie the Eagle  is brilliant because he is the "ultimate underdog". Adam also says Eddie is always incredibly friendly on a briefing call and consistently gets great feedback from our clients.
Adam also thinks Amy Williams is great, with her reigning title as the first female gold medallist at Winter Olympics, she can certainly inspire a business audience into performing at their peak.


Helen & Kate Richardson-Walsh
Matt, our Marketing Exec, is a huge fan of Olympic gold medal winners  Helen  and  Kate Richardson-Walsh , from the women's GB hockey team. He said "they were incredible. What I liked most was that they didn't really speak about individual skill, or talent, or training. It was all about the culture they developed as a team and how they worked towards a common goal. It wasn't all about winning, it was about being a team. It was that supportive culture and teamwork they had developed which got them the gold."
In this video Helen and Kate share the values they developed as a team and provide practical takeaways for business audiences.
Our Head of Account Management, Lucy , thinks Kevin Pearce is a brilliant speaker and has been completely inspired by him after watching his documentary, The Crash Reel. Formerly a professional snowboarder, whilst training for the Olympic trails Kevin suffered a traumatic brain injury. Since, he has become a Sports Ambassador for the National Down Syndrome Society and is an advocate for those who have Down syndrome and brain injuries. Riding again after his accident, Kevin's story is an inspiration to all those who have their own personal mountains to climb.
Debbie , another one of our Account Managers thinks  Liz Johnson  is a brilliant Paralympian and speaker. Debbie says that "Liz is an incredibly down to earth, honest and natural speaker. She was born with cerebral palsy, but it hasn't stopped her achieving huge success as a Paralympic swimmer – and she even set a new Paralympic record at London 2012! Liz talks about how she dealt with her cerebral palsy growing up – and other people's perceptions of her. She has learned that people feel uncomfortable when they don't understand something, so she tries to be as open as possible and says communication is the key, as well as re-defining parameters."
Liz was one of the keynote speakers at our 2017 Knowledge Guild event, you can see her in action in this video clip.
Head of Operations, Rebecca , thinks  Darren Campbell  is absolutely brilliant as "he is the only speaker that we have broken in to spontaneous applause for half way through his speech. The office clapped when he described winning gold at the 4 x 100m in Athens!" If spontaneous applause doesn't mean a speaker makes our top list, then we don't know does!
Thanks team for all your top picks!
For further information or to book a speaker, call us on +44 (0)20 7607 7070  or email  info@speakerscorner.co.uk .
Newsletter Sign Up
If you liked this article then why not sign up to our newsletters? We promise to send interesting and useful interviews, tips and blogs, plus free event invites too.
Have an enquiry?
Send us a message online and we'll respond within the hour during business hours. Alternatively, please call us our friendly team of experts on +44 (0) 20 7607 7070.
Speakers Corner (London) Ltd,
Ground and Lower Ground Floor,
5-6 Mallow Street,
London,
EC1Y 8RQ