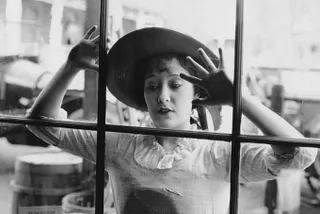 We Ask Our Speakers: 'Can SMEs Outsmart Big Brands?'
Gap or Boohoo? Havaianas or Gandys? Lloyds or Tandem? Big and established, or new and innovative? When comparing SMEs to big brands, retail is the sector that springs to mind. Even a decade ago, a small fashion business would be up against their heavyweight competition, however, the demise of the high street has heralded a bright future for start-ups, who are beginning to put the wind up long-established brands through online sales.
And it's not only retail SMEs that face this challenge. Lessons can be learned across the business world.
At Speakers Corner we're often challenged to recommend speakers to help smaller businesses bat with the big boys. Some of those with the greatest impact include Nigel Risner , a motivational speaker who breaks new ground on customer service and reveals insights about buyers choosing quality service over lower prices.
Nigel tells us how brands can deliver outstanding customer service:
"For brands to deliver exceptional and impactful service they should really be thinking that this isn't exceptional, this is our norm. We treat our clients the way we would want to be treated but we also make sure that we treat them in the style that most suits them."
Kate Ancketill  leads a global consultancy focused on strategic inspiration for some of the world's leading businesses. We asked her how small retailers can compete with the bigger brands and grow their market share.
"Small retailers are well positioned to fill the growing gap between the know-how of modern consumers and the skills needed to create the lifestyles they aspire to. They can create propositions that break down long processes into more manageable actions, and position their own expertise at key moments of the customer journey to help with difficult decision-making."
Kate uses Swedish DIY business Don För Person as a case study. They cater to millennial urbanites who do not have the skills or knowledge to build furniture themselves. They recommend visiting the store fully prepared, with pictures of their home or the room they are planning to renovate. The staff are trained to make design recommendations and customers can hire tools and qualified tradespeople during their visit.
Another small business expert is Cate Trotter , Founder and Head of Trends at Insider Trends, as well as a Future 100 entrepreneur. Her expertise in retail, trends and technology makes her one of our most popular business speakers.
We asked her how small retailers can compete with the bigger brands and grow their market share.
"Small retailers need to focus on their USP. They're not Amazon, so why try to match Amazon? They need to find what they can offer that bigger brands can't. That might be the fact that they have a store in a convenient location, or have a special level of expertise or particular skill. Perhaps they can offer a better quality of product or a more personal service. Once they know what they can do best they can make the most of it."
Cate says that the flexibility of small brands allows them to be innovative - a major advantage in the business world is. So it seems SMEs can compete but they must be confident about what they can offer that sets them apart and makes them more desirable to customers than the big brands.
If there's one key takeaway we took from this conversation its the opportunity is there for SMEs to win and grow their customer base. But rest assured, when those SMEs turn into bigger players, there'll be another wave of SME's right behind them too!
To discuss the speakers we work with, or just for some more info, call us on   or email  info@speakerscorner.co.uk .
Newsletter Sign Up
If you liked this article then why not sign up to our newsletters? We promise to send interesting and useful interviews, tips and blogs, plus free event invites too.
Have an enquiry?
Send us a message online and we'll respond within the hour during business hours. Alternatively, please call us our friendly team of experts on +44 (0) 20 7607 7070.
Speakers Corner (London) Ltd,
Ground and Lower Ground Floor,
5-6 Mallow Street,
London,
EC1Y 8RQ