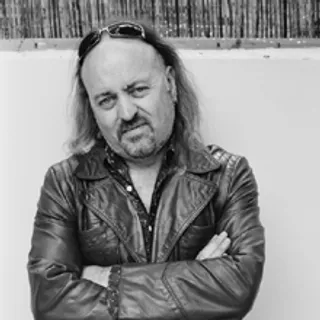 Bill Bailey
Bill Bailey combines a sense of the absurd with a surrealist slant that have made him one of the UK's most popular comedians. With appearances on Never Mind the Buzzcocks, QI and Have I Got News For You on his expansive CV, Bill Bailey makes an ideal comedian for any event.
Bill Bailey is a sublime cabaret and stand up comedian and in 2001 he won Best Live Stand-Up at the British Comedy Awards.   He is a popular choice for entertainment at Corporate Events - for gala dinners or award ceremonies.
He was raised in Keynsham, Bristol. He became an Associate of the London College of Music whilst still at school, and managed to complete a year of an English and Drama degree in London. He got his first taste of Edinburgh in a college production of Under Milk Wood and after dropping out, he played the piano in a wine bar.

He did a stint with Corin and Vanessa Redgrave and Frances De La Tour in the WRP company's The Printers and went on to appear in a group called The Rubber Bishops. His eclectic mix of tunes and gags really kicked off in 1995 when his live show Bill Bailey's Cosmic Jam won the Edinburgh Festival Critics Award.
He broke into TV and since his own series Is 'It Bill Bailey?' on BBC2, has appeared in a variety of shows and sitcoms. He made an appearance in the comedy 'Wild West' starring Dawn French and written by Men Behaving Badly creator Simon Nye. He also filmed The Stick Up for Mermaid Films.  Bill had a starring role in award-winning sitcom 'Black Books' as increasingly deranged ex-accountant Manny Bianco, and guest appearances in acclaimed comedy 'Spaced' as Bilbo Bagshot - comic store owner and die hard Hawk the Slayer fan.  Bill appeared as team captain on Never Mind the Buzzcocks for a number of series.
Bill toured in 2004 with the show Part Troll, which was a huge smash hit.  He followed this up by premiering his new show 'Steampunks' at Edinburgh in 2006.  His 2008 tour 'Tinselworm' was a huge success and Bill has recorded one of the shows on a DVD titled " Bill Bailey - Tinselworm "
Bill is the first ever comedian to appear at the Eden Project.
For further information or to book Bill Bailey, call us on +44 (0)20 7607 7070 or email info@speakerscorner.co.uk


Want to know more about Bill Bailey
Other speakers you might like
Related from around the site
Speakers Corner (London) Ltd,
Ground and Lower Ground Floor,
5-6 Mallow Street,
London,
EC1Y 8RQ