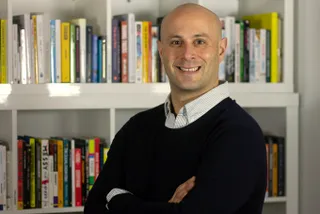 Nick Gold's 5 Top Tips to Speak With Confidence
It was late last year when I received a message from the book publisher Penguin asking if I would like to write a book about public speaking as part of their business book series. Writing a book on public speaking was something I had considered for a while. But if I was to write a book, I wanted it to be accessible for anyone who may have to speak or present to an audience, no matter how big or small.
Therefore when this opportunity arose, I felt  Speaking With Confidence  would be written for anyone who has to speak and/or present to an audience, regardless of its size, environment and so forth. Indeed glossophobia, or the fear of public speaking, is incredibly common and can inhibit our chances of career progression by up to 15%.
Each chapter in  Speaking With Confidence  is supplemented with insights and experience from some of the best public speakers myself and the Speakers Corner team have worked with over the past 20 years. To give you a taste of what you'll pick up from the book, here's 5 top tips to speak with confidence – especially in the virtual world!
1) Be Yourself
To deliver a successful message, speech or presentation, you need to be yourself. While you might be able to contrive a fit with the words and content you're delivering, ultimately your speech will fall down if it is not in line with your personal brandThink about how you like to say and do things. What you're aiming for here is to get a strong sense of your natural persona. The more you plan and prepare with this in mind, the more at ease you'll feel when speak in front of an audience.
2) How To Calm Those Nerves
Everybody gets nervous before they speak in front of an audience. Even the most seasoned pros get stage fright – in fact I remember standing next to a famous Olympian only for them to disappear to the bathroom just before they were about to go on stage…who then proceeded to deliver an incredible speech!A great way to overcome those nerves and build your confidence is to carefully script the first 2 minutes of your speech or presentation. You should be able to recite this from memory. This will build your confidence, you'll start to feel at ease and the rest will flow naturally!
3) Practice Makes Perfect
Perhaps this goes without saying, but practice is everything. The greatest speakers – those who appear to be able to speak 'off the cuff' – make no mistake, they are the ones who have spent hours practising. However, for practice to make perfect, you need to seek honest feedback. That means seeking out those who are prepared to do just that and not say what they think you want to hear. Ask questions, seek constructive feedback, and make the necessary changes. The best way to gain confidence is through the practice and preparation in the lead up to the speech and satisfying your quest for feedback that helps you up your game.
4) You Don't Need All The Answers
Many of the fears people associate with speaking or presenting is that the audience expect you to have all the answers. That's not the case. Your role is to educate, challenge assumptions and instigate conversations. What's more, you should make it clear to your audience that they have a right to reply and you truly desire and appreciate a two - way interaction, feeding off their energy as much as the points you are sharing, and readying themselves to participate in a dialogue.
5) Your Personal Brand
During the pandemic we've become accustomed to speakers presenting from all manner of locations within their home. As remote working continues to be standard practice for many of us, if you are due to speak or present, you should give some thought as to whether you want to be seen sitting behind a desk, or in an office chair away from a desk, which would allow a greater field of view for body language. Or you may prefer more informal furniture, such as a sofa. Each setting will make a different impression. With video presentations, your content is absolutely critical. Ownership of the words and opinions you share is a necessity. There's no place to hide when the camera is focused on your face. You'll be under close scrutiny from your audience. They'll easily pick up on anything that doesn't ring true or seems at odds with your personal brand and how you normally behave.
Editors note: Nick will be hosting our Virtual Masterclass: Speaking With Confidence on Thursday 18th February at 3PM. We all have ideas to share, feedback to discuss and a voice that should be heard. Yet the fear of speaking up can inhibit our career development and impede business growth. To upskill your teams in 2021  please register your place today .
I would like to thank Jon Culshaw, Cath Bishop, Ade Adepitan, Benjamin Zander, Colin Maclachlan, Farrah Storr, Caspar Berry, Gemma Milne, Javier Bajer, Jonathan MacDonald, Kenneth Clarke, Lee Warren, Mark Jeffries, Miles Hilton-Barber, Nick Jankel, Nigel Risner, Dr Patrick Dixon, Rory Sutherland, Lord Coe, Will Butler-Adams, Tanni Grey-Thompson, Jez Rose, Maggie Alphonsi, Mandy Hickson, Mark Schulman, Daisy McAndrew, Cathy O'Dowd, Debra Searle and Nigel Barlow for sharing their insights and expertise.
If you speak or present to any audience, regardless of size or seniority, then we highly recommend reading Nick's book, Speaking With Confidence, which is packed full of expert tips. Please order via the Penguin website.
Nick is also available to host training sessions with employees ranging from C-Suite to team leaders and heads of departments, as well as those who speak at internal and external events, to boost their confidence and improve their public speaking skills.  For further information, call us on +44 (0)20 7607 7070 or email  info@speakerscorner.co.uk Newsletter Sign Up
If you liked this article then why not sign up to our newsletters? We promise to send interesting and useful interviews, tips and blogs, plus free event invites too.
Have an enquiry?
Send us a message online and we'll respond within the hour during business hours. Alternatively, please call us our friendly team of experts on +44 (0) 20 7607 7070.
Speakers Corner (London) Ltd,
Ground and Lower Ground Floor,
5-6 Mallow Street,
London,
EC1Y 8RQ