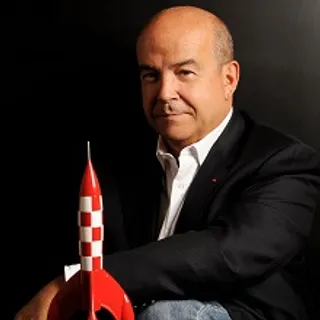 Patrick Baudry
Patrick Baudry is the most renowned French astronaut, and a retired Lieutenant Colonel in the French Air Force. In 1985 he became the second French citizen in space, after Jean-Loup Chretien, when he flew aboard NASA's Space Shuttle mission STS-51-G Discovery.
After five years in advanced mathematics, Patrick Baudry received a Master's degree in aeronautical engineering from the French Air Force Academy of Salon de Provence. He was awarded his fighter pilot wings in 1970 and spent the next seven years on squadron duties, flying F 100 and Jaguar strike fighters; he was assigned to different Air Force bases in France and performed many temporary assignments in Africa.
He has flown over 14,000 hours (11,000 hours aboard jet planes) logged on 350 different fixed wing and rotary wing aircraft types including 30 combat type (among which Mirage III, Jaguar, Mirage 2000, F15, Mig 29 and Sukhoi 27). Patrick Baudry has also Airline and Helicopter Professional pilot licences.
When in 1980 CNES (French Space Agency) opened the recruiting process for the Interkosmos - CNES orbital mission planned for 1982, he applied for a cosmonaut position. He was selected from a pool of 2000 candidates and spent the next two years at the Star City, near Moscow, undergoing the standard training process given to Soviet cosmonauts. He qualified as a cosmonaut-engineer on the Soyuz-T spacecraft /Saliut 7 Space Station Complex. He participated in the first French-Soviet space flight as back-up crew member. His duties were to perform experiments, including physiological, biological and astronomical research.
On 23rd March, 1984, the first French-American space flight was decided, and Patrick joined the Johnson Space Centre, Houston, Texas. After a year of training, he was assigned to the Mission 51-E and then to the Mission 51-G. The launch took place on 17th June, 1985, form Cap Canaveral, at Kennedy Space Centre, Florida. The main objective of the mission, was to deliver three satellites in orbit. Patrick had the responsibility of a scientific and medical program for French and American research laboratories.
On 1st March 1986, Patrick was appointed to become Advisor of the Chairman of Aerospatiale Company. He was the Test Pilot for the European space plane Hermes, for which Aerospatiale was industrial prime contractor.
From 1993 to 2003, he was advisor for manned space flights at EADS, and SeniorTest Pilot for Airbus Industrie. He was in charge of flight presentations of Airbus prototypes in all international airshows as Le Bourget (France), Farnborough (Great Britain), MAKS (Joukovski-Russia), Santiago de Chile, Acapulco (Mexico), Dubaï, Djakarta (Indonesia), etc.
Patrick Baudry founded in July, 1989, in Cannes-Mandelieu, the first European Space Camp, Space Training Center for the preparation for life in space. In 1990, he founded ACADIS High School. He is a lecturer, a writer, and a consultant, expert in Space activities and aeronautics.
He is a UNESCO Goodwill Ambassador, a Board Member of the Foundation for Olympic Truce (C.I.O) and a Board Member of the AVU (African Virtual University), Officier de la Légion d'Honneur, Chevalier de l'Ordre National du Mérite, and holds the Médaille de l'Aéronautique. He is Member of the Soviet Order for Friendship among people, Member of the Gagarine Soviet Order, Abdulaziz Medal (Kingdom of Saudi Arabia) and is Officier de l'Ordre du Mono (TOGO).
Patrick was also awarded the American Space Flight Medal and Lindberg Trophy (USA). He is a member of several Academies, including the Association for European Astronauts, the National Air and Space Academy, the International Academy of Astronautics and the Association of Space Explorers.
For further information or to book Patrick Baudry, call us on +44 (0)20 7607 7070 or email info@speakerscorner.co.uk
Want to know more about Patrick Baudry
Other speakers you might like
Speakers Corner (London) Ltd,
Ground and Lower Ground Floor,
5-6 Mallow Street,
London,
EC1Y 8RQ