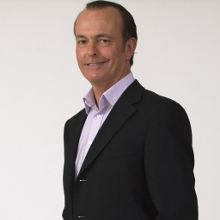 Quentin Willson: After Dinner Speakers
Hailed as one of the UK's best-known motoring commentators, Quentin Willson is a celebrated TV personality. Author, presenter, and campaigner, Quentin has saved British motorists millions, by forcing fuel prices to line with Europe. Amusing and arresting, Quentin is an experienced conference facilitator and after dinner speaker, his history in business, motoring anecdotes and down to earth style make him a sure fire hit on the speaking circuit.
"Personable and professional - particularly kind in speaking with dinner guests at length once the awards had finished!"
Travel & Transport, TV Presenters
Awards Hosts & Presenter, After Dinner Speakers
Consumer champion, journalist, keynote speaker and awards host Quentin Willson co-founded Top Gear with Jeremy Clarkson, and has hosted and presented on Panorama, The Money Programme, The Big Breakfast and The Fast Show. He is also an esteemed motoring journalist.
Quentin Willson saves us billions, literally. Dedicated to consumers, he helped force British car makers to reduce their prices to the same level as the rest of Europe, saving the consumer £4 billion.
Lead campaigner for FairFuelUK, Quentin has torpedoed 12 pence worth of fuel duty rises saving the country another £5.5 billion in controversial fuel duty hikes.
He is also a well-known TV face. He founded Top Gear with Jeremy Clarkson, created the first finance-based property show All The Right Moves, and created the Britain's Worst series, which has been used in 14 countries.
Quentin is BBC Breakfast and Sky News' resident motoring expert, and writes a weekly column for the Sunday Mirror and Classic Cars Magazine. He has also written 10 best-selling motoring books.
For further information or to book Quentin Willson, call us on +44 (0)20 7607 7070 or email info@speakerscorner.co.uk
What people said about Quentin Willson
"Personable and professional - particularly kind in speaking with dinner guests at length once the awards had finished!"

FT Business

"Friendly, stylish and laid back attitude to speaking. He addressed the audience with the appropriate amount and context of humour."

University of Northampton - Business Bridge

"Delighted that Quentin took the time to join us for the whole evening. Very interesting to hear the history of Top Gear."

Arval PHH Business Solutions
Want to know more about Quentin Willson
Other speakers you might like
Speakers Corner (London) Ltd, Unit 31,
Highbury Studios,
10 Hornsey Street,
London,
N7 8EL