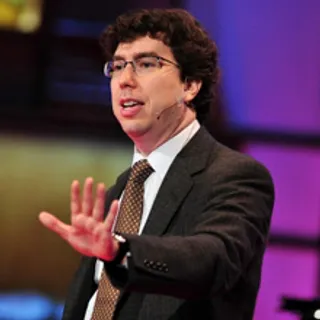 Jonathan Zittrain: Keynote & Conference Speakers
Harvard Computer Science and Law Professor, Jonathan Zittrain is a renowned authority on the future of the internet and an enlightening keynote speaker. Jonathan discusses the Internet of today and how it is threatened because of its runaway success, as well as the power of big data and how this has been alternately over-estimated and under-appreciated.
"Jonathan was exellent, he provided a entertaining and highly stimulating presentation, and as our final keynote gave delegates great food for thought. Jonathan also coped brilliantly with the "virtual" setting (by videolink) and in spite of this was able to encourage interaction with delegates. Feedback from delegates attending the conference have rated Jonathan's keynote as one of the highlights of the event. Many thanks!"
Social Media, Technology, Finance & Economics, International Affairs, Politics & Current Affairs, Security & Risk
Keynote Speakers
Jonathan Zittrain is an internationally-known cyberlaw scholar, writer and speaker, who currently teaches at Harvard and Stanford Universities.
Jonathan's main areas of interest include law and policy surrounding the internet, as well as intellectual property, censorship, content control and computer security. He is widely regarded as a leading expert in his field.
On completing a first degree from Yale University in Cognitive Science and Artificial Intelligence, he went on to gain a Juris Doctor from Harvard Law School and a Masters in Public Administration from Harvard's John F. Kennedy School of Government. His recent research includes the study of Internet filtering by national governments, the role of intermediaries as points of control in Internet architecture, and the taxation of Internet commerce.
He is the founder of the H2O Project, which produces simple, unobtrusive but novel tools for use in classrooms, and is co-founder of the Chilling Effects web site, where Google and others report requests that information be censored. He comes to the Oxford Internet Institute from Harvard Law School where he was the Jack N. and Lillian R. Berkman Assistant Professor for Entrepreneurial Legal Studies. At Harvard Law School he co-founded the Berkman Center for Internet and Society. He will coordinate a significant research and teaching relationship between the Berkman Centre and the OII, and is the Berkman Visiting Professor at Harvard. Professor Zittrain is a Professorial Fellow of Keble College, which has developed particular interest in computer science and public policy.
He is co-founder of Chilling Effects, a collaborative archive created to protect lawful online activity from legal threats.
Jonathan Zittrain is a highly confident lecturer and experienced public speaker, who regularly appears as a panellist, keynote speaker, moderator and workshop leader for a multitude of leading organisations and conferences, including Google and the World Economic Forum. Well known for his informative, yet entertaining approach to his subjects, he effortlessly holds audiences with his talks and relaxed, humorous style of delivery.
Jonathan is the author of numerous books including:
For further information or to book Jonathan Zittrain, call us at Speakers Corner on +44 (0)20 7607 7070 or email info@speakerscorner.co.uk
What people said about Jonathan Zittrain
"Jonathan was exellent, he provided a entertaining and highly stimulating presentation, and as our final keynote gave delegates great food for thought. Jonathan also coped brilliantly with the "virtual" setting (by videolink) and in spite of this was able to encourage interaction with delegates. Feedback from delegates attending the conference have rated Jonathan's keynote as one of the highlights of the event. Many thanks!"

iParadigms Europe Ltd
Want to know more about Jonathan Zittrain
Other speakers you might like
Speakers Corner (London) Ltd,
Ground and Lower Ground Floor,
5-6 Mallow Street,
London,
EC1Y 8RQ