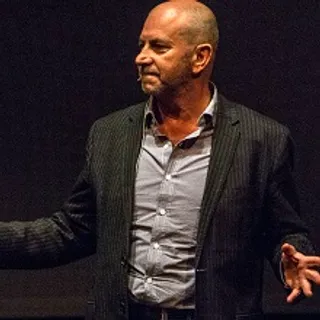 Mike Stevenson: Keynote & Conference Speakers
Mike's story, the son of a Lebanese mother and Scottish/Irish father, which saw him expelled from school at 15 on a downward spiral towards homelessness, depression and on the brink of suicide before turning his life around and founding a multi-million-pound business, will leave audiences captivated and inspired.
Motivational Speakers, Keynote Speakers
Mike Stevenson is one of Europe's most exciting and persuasive motivational keynote speakers whose performances unerringly attract rave reviews. His journey from rough sleeper to multi award-winning entrepreneur is a real tour-de-force and how he turns that learning into life-changing messages makes him a truly compelling keynote speaker or conference host.
Whenever he takes to the stage, Mike creates a surge of energy that stays on peak well after he has performed. Few are better at embedding that learning seed and encouraging people at all levels to step beyond the confines of their experience. Audiences love his fast moving and humour packed approach.
He is founder of Thinktastic, an innovations agency, voted Scottish Small Company of Year and acclaimed for its unique approaches to stretching people and organisations beyond the 'apparently' possible. With more that 30 years in Marketing Mike has worked with a number of leading brand names including M&S, British Gas, Sky TV, SSE and Standard Life with each – the original brief was exceeded. In the process, he won nine Communicator in Business Awards.
Mike's motivational work with schools was given special recognition on three successive years with a Business in the Community award for Raising the Attainment of Young People while his community investments made him one of only 21 UK company directors to be awarded the inaugural Community Mark. In 2011, he picked up New Start Magazines Better Places Award. He was a founder member of Glasgow's Wise Group and then of multi-award-winning creative agency, Design Links.
Mike is a TEDx and Leadercast speaker – recently joining the likes of Steve Wozniak, Apple co-founder in a Transatlantic leadership event. Mike is a regular media commentator on leadership, future scoping and innovation, an occasional columnist for the Sunday Times and a two-times host of Disney Institute Master classes.
For more information or to book Mike Stevenson, call us on +44 (0) 20 7607 7070 or email  info@speakerscorner.co.uk
Want to know more about Mike Stevenson
Other speakers you might like
Speakers Corner (London) Ltd,
Ground and Lower Ground Floor,
5-6 Mallow Street,
London,
EC1Y 8RQ