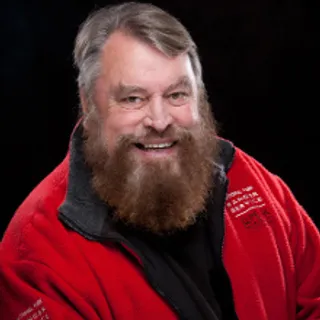 Brian Blessed: After Dinner Speakers
With his distinctive booming voice, larger than life character, and great sense of humour, Brian Blessed is one of Britain's best loved actors.  Brian Blessed has climbed Everest and trekked to the North Pole, to name just a few of his amazing feats. A great raconteur, Brian brings colour and life to his after dinner speeches, and is a great addition to any event.
"Exceptional, delighted us with stories of his exploration. It would not have been true Brian without the Gordon's Alive rallying cry."
TV Presenters, Leadership
Motivational Speakers, Awards Hosts & Presenter, After Dinner Speakers
'Hearty', 'king-sized' Brian Blessed, is one of the UK's most cherished theatrical and movie icons.
Born into a Yorkshire mining family, Brian left school at 14 when his father was badly injured in a mine, to become a plasterer.
Always passionate about drama, he trained at the Old Vic Theatre School, and embarked on what was to become one of the most colourful and successful careers of a generation.
The role of Old Deuteronomy in Andrew Lloyd Webber's acclaimed and long-running musical, Cats, was created by Brian and earned him a SWET nomination – and the hearts of the nation.
As a member of the Royal Shakespeare Company, Brian's credits are luminous and prestigious. Claudius in Hamlet; Maxim Gorky in State of Revolution, and famously, Baron Bomburst in Chitty Chitty, Bang, Bang at the London Palladium.
Not only a theatre stalwart, but a veteran of TV as well, Brian has starred in I, Claudius; The Three Musketeers, and Aliens V Wizards for the BBC, amongst numerous other shows. He has also hosted Have I Got News for You, and played The Narrator in a Tour of Prokofiev's Peter & The Wolf.
On the big screen he starred opposite Katherine Hepburn, Irene Papas and Vanessa Redgrave in Talthybius; played Vultan in Flash Gordon and Lord Locksley in Robin Hood Prince of Thieves with Kevin Costner.
Brian has published nine books including Nothing's Impossible and Blessed Everest, which was born from his love of mountaineering and his insatiable desire to stand on 'the top of the world'. He has climbed Everest and reached a height of 28,000 feet – the highest a man of his age has achieved without oxygen.
Brian has also completed a trek to the North Pole, an expedition to The Lost World in Venezuela, a climb to the summit of Mount Ararat in Turkey at 17,000 feet and has climbed Mount Kinabalu in Malaysia. There is no stopping Brian's adventurous side, next on his agenda is to travel into space.
Entertaining and eloquent, Brian is the ideal speaker to share his amusing stories with an after-dinner audience.
For further information or to book Brian Blessed, call us on +44 (0)20 7607 7070 or email info@speakerscorner.co.uk
What people said about Brian Blessed
"Exceptional, delighted us with stories of his exploration. It would not have been true Brian without the Gordon's Alive rallying cry."

Deloitte LLP
Want to know more about Brian Blessed
Other speakers you might like
Speakers Corner (London) Ltd,
Ground and Lower Ground Floor,
5-6 Mallow Street,
London,
EC1Y 8RQ